Alcohol-free Egger Zitrusradler
Your refreshing summer beer mix with the "certain something"!
---
Your refreshing "Sommerradler" completely without alcohol! For all those who want to refresh themselves in the summer with a fruity mixed beer drink, but completely without alcohol! With 52% citrus lemonade and 48% alcohol-free beer, the Radler is in no way inferior to its alcoholic counterpart. A wonderfully refreshing drink that will whet your appetite and, above all, delight our athletes: Our non-alcoholic beer also impresses with its isotonic effect!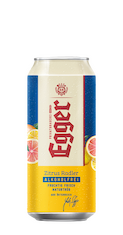 ---
Container Types:
Pack 4x6x500ml Cans
Six Pack 6x500ml Cans
One-way bottle 330ml
Can 500ml